My Benefits Newsletter
June 2017
On call support - health care when you need it

Whether you have a minor medical issue or are making a major health care decision, your American benefits provide you and your dependents with a variety of support services.

24 Hour NurseLine
Get advice, guidance, resources and support whenever you need it, free of charge from a registered nurse. Call the NurseLine when you just need some quick advice from a medical professional who can guide you to the proper care. To be connected to the Nurse Line, call BlueCross BlueShield (BCBS) at 877-235-9258 or United Healthcare (UHC) at 800-955-8095.

Doctor on Demand
When you need to see a doctor, skip the waiting room with Doctor on Demand to see a board-certified physician face-to-face over live video - right from your mobile device or computer. Download the Doctor on Demand app from the App Store /Google Play or text: American to 68398. Remember to enter your medical plan information when registering. Team members enrolled in the Standard, Value or PPO 80/90/100 Plans will pay a $20 copay per visit; those enrolled in Core will pay $40 per visit until deductible has been reached.

Condition Management
When you've been diagnosed with a chronic or complex medical condition, it's not always clear what to do. With the BCBS and UHC Condition Management programs, you can work for free with a dedicated case manager for diabetes, asthma, bariatric procedures, cancer diagnosis and more. Your case manager can help you understand and seek the best care for whatever medical condition you're dealing with. To see if a Condition Management program is right for you, call BCBS at 877-235-9258 or UHC at 800-955-8095.

Advance Medical
Whether you'd like to explore all your medical options regarding a procedure or want to ensure you are receiving the best treatment for your condition, Advance Medical can help you make your next serious decision regarding your health. This expert second opinion program is offered at no cost for team members and dependents enrolled in an American medical plan. Visit advance-medical.net/AmericanAirlines or call 855-212-1074 to learn more about this service and how you can get connected to their world-class network of doctors who are leading experts in their medical fields.
Still looking to earn your $100 preventive care reward?

Did you know you can earn your $100 preventive care reward in two different ways? If you'd like to get a free biometric screening, head to any Premise on-site clinic, visit a Labcorp location, or your own physician. You can also earn your reward by obtaining an age/gender appropriate preventive screening such as an annual physical, mammogram, or colonoscopy. Remember that preventive care is provided at no-cost for team members enrolled in the Standard, Core, or Value medical plans.

When you go for your visit, simply print out a form from the WebMD Wellness portal for your doctor to fill out and submit. All U.S.-based American Airlines team members and spouses enrolled in a medical plan can earn $100 in their YSA spending account. To learn more about Wellness Rewards, visitmy.aa.com/wellness, click on employee log in, then click on the rewards tab. .
There's never a better time to Knock Out Nicotine!

Kicking a nicotine habit is no easy task, but Knock Out Nicotine can help. Have you thought about trying to quit? Do you need a prescription for a tobacco cessation medication? Team members and dependents over the age of 18 enrolled in an American medical plan qualify for prescription assistance. Need a little more support? WebMD offers certified Tobacco Treatment Specialists to assist with keeping you on track. Your Tobacco Treatment Specialist can also provide free nicotine replacement options like gum and patches. Visit my.aa.com for more information.
Summer is here and school is out!

If you are a parent, summer can be great, but it can also be a challenge. Let the Optum Employee Assistance Program help. Looking for childcare during the summer months? You can connect with a specialist to help you find high-quality childcare in your area. Just need a little help with a parenting issue? A specialist in parenting support can direct you to the right place. For support and services, visitwww.liveandworkwell.com (access code American) or call 800-363-7190.
Healthy skin is in

While everyone enjoys a little fun in the sun, your first instinct when going outside should be to protect your skin. UV rays from the sun are the #1 cause of skin cancer, but there are many ways to minimize your risk.

Use broad spectrum sunscreen with SPF 30 or higher. This protects you from both UVA and UVB at 97%, reducing sunburn, skin cancer and aging effects. Apply your sunscreen 30 minutes prior to going outside to allow the ingredients to fully bind to your skin.
To keep up your protection, reapply sunscreen every two hours and every time you towel off (even if the brand is waterproof).
Clouds only block about 40% of UV rays, meaning you're still at risk even if it's completely cloudy. Many people suffer the worst burns on overcast days because they assume they don't need to wear sunscreen.
Travel smart

Check out these mobile apps that can help you stay well while taking advantage of your non-rev benefits this summer!

TravWell
Ever wish you could get destination-specific vaccine recommendations, a checklist of what you need to do to prepare for travel, and a customizable healthy travel packing list? With this app you can do just that, plus store travel documents, keep a record of your medications and immunizations, and set reminders to get vaccine booster doses or take medicines while you're traveling. Download on the App Storeor Google Play.

Can I Eat This
Montezuma's revenge, Delhi belly, or travelers' diarrhea-whatever you call it, it can ruin your international trip. Avoid getting sick by using CDC's app. Select the country you're in and answer a few simple questions about what you're thinking about eating or drinking, and Can I Eat This? lets you know whether it's likely to be safe. Download on the App Store or Google Play.
Healthy Selfies
Healthy moments are an important part of our daily lives, and they should always be celebrated – no matter how big or small. Check out this month's healthy selfies and submit your own by emailing richard.preble@aa.com. You could be featured in next month's issue.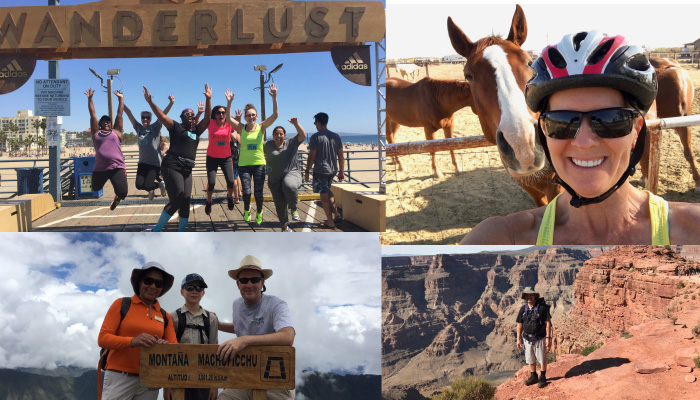 (Top Left) Julia Price (Central Baggage Specialist), Liz Schaack (Supervisor IT Security), Nicole Barber (friend), Lynn Johnson (friend), Tara Burrowes (Sr Manager IT Security), Dariella Fuentes (former AA employee) going airborne at Wanderlust Satnta Monica, CA.
(Top Right) PJ Martin, wife of PHX based pilot Jon Martin, taking a biking break in San Tan Valley, Arizona.
(Bottom Right) Captain Tom Kinne and son, with their guide, hiking the Incan Trail overlooking Machu Picchu, Peru.
(Bottom Right) Francisco Caldera, Auditor, Quality Assurance, hiking the Grand Canyon.
---
This is a send only email. Please do not reply to this message.
Unsubscribe Information
Corporate email users-Management, Support Staff, Reservations Representatives and Airport Customer Service Agents are automatically enrolled to receive email notifications at their aa.com email address. While you cannot unsubscribe, you may change this email address to a different one at any time, free of charge. Individuals from all other workgroups may elect to participate, edit their email address or unsubscribe at any time, free of charge. Visit Jetnet's Resources space and select Update MY Information to manage your Email Notifications subscription.